Events
London Vet Show, 2019
Come and visit Lindsie, Jen and the team at the London Vet Show Stand G61, 14–15 November 2019!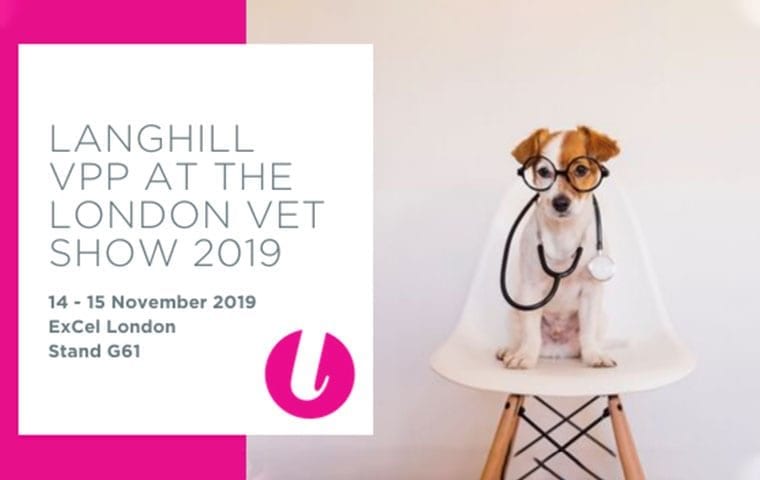 We're really excited to announce that Langhill VPP will be an exhibitor at this year's London Vet Show!
Many of you will know that after 10 successful years of recruiting within the animal health and veterinary sector, we are launching Langhill Veterinary Practice Partners. Langhill VPP specialise purely in Veterinary Practice Recruitment, our mission is to help veterinary practices find and attract top talent, while also helping veterinary professionals find the best career opportunities within the industry.
Langhill VPP's first major event will be the London Vet Show, which is the largest veterinary exhibition in Europe.

The London Vet Show 2019 – it's a really big deal!
London Vet Show is Europe's premier two day, conference-led exhibition for veterinary professionals, run in association with the Royal Veterinary College and the British Veterinary Association. You can read more about it here, and you can also find details on how to register, which companies are exhibiting, and lots more.
More than 450 exhibitors and 5600 vet professionals attended the London Vet Show 2018. 
And this year Langhill VPP will be joining Langhill Associates too. Yay!

Details of the London Vet Show 2019
What:
The London Vet Show, 2019
When:
14 November 2019 – 8:15am – 6:00pm
15 November 2019 – 8:15am – 5:00pm
Where:
ExCel London
Royal Victoria Dock
1 Western Gateway
Royal Docks
London E16 1XL
Where to find us:
Stand G61
Langhill at the London Vet Show 2019
Please do drop by and see us at the show. You'll be able to meet Lindsie, Jen and the team and the Langhill mascot pooch, we would love to meet you! 
As one of the UK's leading specialist recruiters for the veterinary industry, we would love it if you dropped by to see us. 
So whether you're looking to recruit talent, or whether you work within the veterinary industry and are interested in staying on top of opportunities to develop your career, do come and say hello!
More about Langhill
At Langhill, we help both hiring clients and candidates achieve their goals by building long-term relationships based on trust, delivering a very professional service and, most importantly, by delivering results.
We have an extensive database of veterinary surgeons, nurses and other staff, along with both independent and larger practices and groups across all animal sectors, from companion/small animals, farm/large animals, food-producing animals, mixed practice or equine.
Langhill VPP have a specialist online recruitment platform enabling you to manage your own recruitment needs from start to finish. Of course, not forgetting we do also offer the fully comprehensive service should you so wish!
Candidates can register their details and upload their CV, and recruiting companies will be able to search through registered candidates and contact you directly.
Recruiting companies will also be able to upload job vacancies to attract candidates, who will be able to apply through 'one-click'. It couldn't be easier!
If you'd like to talk with one of the team, don't hesitate to call us on 0113 263 2031
or email us at info@langhillvpp.com.
Share this job
Back to blog